[tabs tab1="ip telephony" tab2="unified messaging" tab3="im and presence" tab4="conferencing" tab5="call center" layout="horizontal"]
[tab id=1][fontawesome icon="phone" circle="yes" size="large"]
[one_half last="no"]
IP telephony provides a way for you to extend highly secure, reliable, and consistent communications services to all your employees whether they are in main campus locations, at branch offices, working remotely, or are mobile. IP telephony transmits voice communications over the network using open-standards-based Internet Protocol.
Cisco IP telephony solutions are an integral part of Cisco Unified Communications, which unify voice, video, data, and mobile applications on fixed and mobile networks enabling users to easily communicate in any workspace using any media, device, or operating system. Using the network as the platform, Cisco IP telephony solutions help organizations of all sizes realize greater security, resilience, and scalability in addition to the inherent benefits of using a converged network for transport and interconnection.
Introduction to Cisco Unified Communications
Top Ten Considerations when Evaluating Unified Communications Solutions
[/one_half]
[/tab]
[tab id=2][fontawesome icon="envelope" circle="yes" size="large"]
[one_half last="no"]
Unified messaging (or UM) is the integration of different electronic messaging and communications media (e-mail, SMS, fax, voicemail, video messaging, etc.) technologies into a single interface, accessible from a variety of different devices.  While traditional communications systems delivered messages into several different types of stores such as voicemail systems, e-mail servers, and stand-alone fax machines, with Unified Messaging all types of messages are stored in one system. Voicemail messages, for example, can be delivered directly into the user's inbox and played either through a headset or the computer's speaker. This simplifies the user's experience (only one place to check for messages) and can offer new options for workflow such as appending notes or documents to forwarded voicemails.
Cisco Unity Connection Data Sheet
SpeechView Text-to-Speech Data Sheet
[/one_half]
[/tab]
[tab id=3][fontawesome icon="comments" circle="yes" size="large"]
[one_half last="no"]
Cisco IM and Presence consists of many components that enhance the value of a Cisco Unified Communications system. The main presence component of the solution is the Cisco IM and Presence Service, which incorporates the Jabber Extensible Communications Platform and supports SIP/SIMPLE and Extensible Messaging and Presence Protocol (XMPP) for collecting information regarding a user's availability status and communications capabilities. The user's availability status indicates whether or not the user is actively using a particular communications device such as a phone. The user's communications capabilities indicate the types of communications that user is capable of using, such as video conferencing, web collaboration, instant messaging, or basic audio.
Read an in depth comparison on Cisco vs. Microsoft for UC by ZK Research
[/one_half]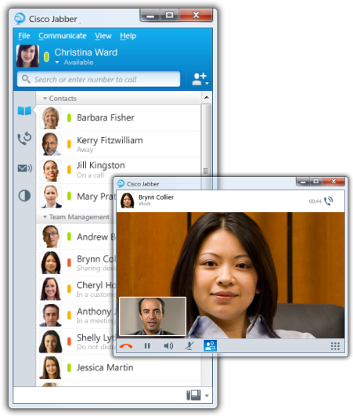 [/tab]
[tab id=4][fontawesome icon="facetime-video" circle="yes" size="large"]
[one_half last="no"]
Cisco TelePresence conferencing delivers exceptional face-to-face collaboration experiences through life-like video, audio, and content sharing.
Cisco WebEx Meeting Center provides easy-to-use, highly secure web conferencing for millions of users across platforms.
By bringing together these two powerful collaboration solutions, you can create an environment where people can easily work together, from anywhere, using a wide variety of endpoints and devices, including mobile.
Cisco TelePresence cloud services and solutions are built to deliver flexible deployment and service models with highly scalable conferencing, advanced media solutions for interoperability and the power to easily extend reach of video communities through secure intercompany and interprovider telepresence and options such as public telepresence suites.
Cisco Telepresence: At a Glance
Collaborate with Anyone, Anywhere, Anytime with Cisco WebEx
[/one_half]
[/tab]
[tab id=5][fontawesome icon="headphones" circle="yes" size="large"]
[one_half last="no"]
Easy to deploy and use, Cisco Unified Contact Center Express (Unified CCX) delivers a highly secure, available, virtual, and sophisticated customer interaction management solution for up to 400 agents. This integrated, comprehensive, contact center solution is intended for both formal and informal contact centers in midmarket, enterprise branch, and corporate departments. Unified CCX offers sophisticated call routing and comprehensive contact management capabilities. It includes an embedded reporting solution that offers a comprehensive view of contact center statistics at a glance.
Unified CCX provides customer segmentation with state-of-the-art, built-in, interactive voice response capability, and proactive customer service for a superior customer experience with integrated, outbound, call management capabilities. Multichannel capabilities include management of voice, email, web chat, and social media inquiries.
Three waves of customer care with Cisco Unified Contact Center Express
[/one_half]
[/tab]
[/tabs]